If you're looking to provide specific spending summaries, audit user transactions, or otherwise dig into the activity of your employees using Benepass, you'll want to get familiar with our Spending Report options.
In this article, we'll look at all filtering and sorting functions available, common reporting presets, and more.
Where to Locate Employee Spend Data
When you click into the Reports tab on the Admin Dashboard, the view generated will default to "Posted Spending". You'll see an unfiltered view of all recent employee transactions, including both card spending and expense submissions.

Filtering Data
Benepass rolled out an expanded and improved data filtering in-platform to save your team the work of modifying transaction data manually. Let's look at all filtering options here.
Date Range
Select the specific date range, or select one of our preset reporting periods.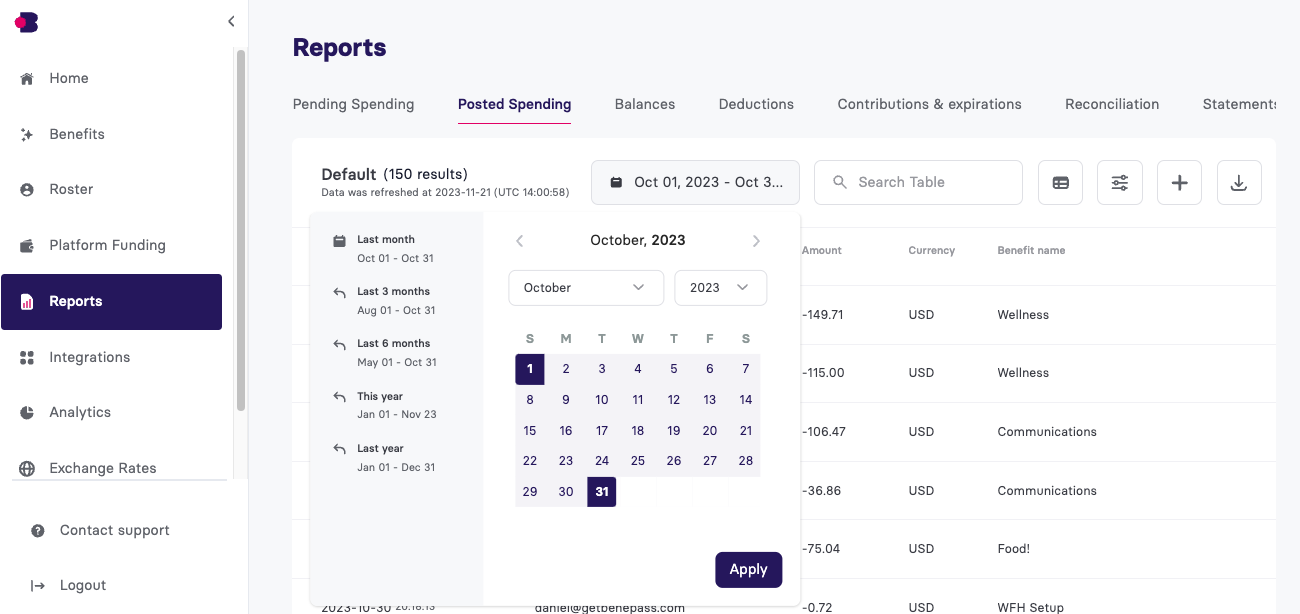 Filters
Filter data in-platform before downloading.

Benefit Name: Breakdown spending by benefit(s)
Country: Breakdown spending by employee location(s)
Local Currency: Breakdown spending by local currency used for a purchase
Taxability: Breakdown spending by taxable or non-taxable transactions
Transaction Status: Breakdown spending by the possible transaction states
Transaction Type: Breakdown spending by card transactions and expenses
For more details on Transaction Statuses and Types, please visit this article.
Preset Spending Reports
Utilize preset filter combinations to quickly generate common monthly reporting.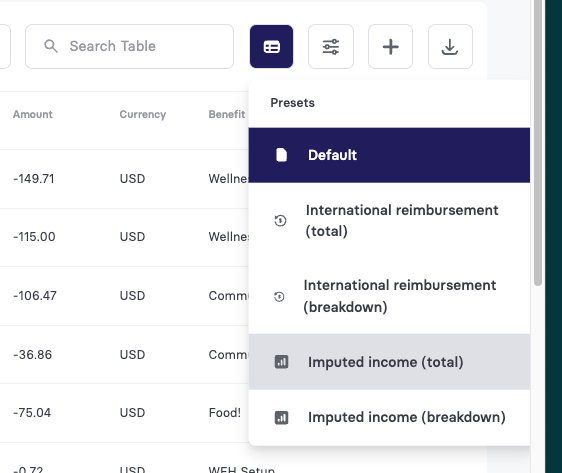 Benepass provides preset filters for easy reporting. To learn more about these presets and the intended use of each, please visit these articles.
Aggregating Data Options
Use our quick aggregate feature to summarize spending by employee or location.

Other Options
Combining Filters: Apply multiple filters and aggregation methods at once to customize your report.
Search Function: Utilize the search function for even further specificity.

Employee Name / Email
Merchant Name
Downloading Reports
Once you've organized the data to your liking, you can download your current view as a CSV.

Bookmarking Reports
The filtering options on the Spending Report tab include URL-based indicators that allow you to bookmark custom reports. Once you've filtered down to your preferred report filters, simply save the URL!
Questions? We are happy to help! Please reach out to the Benepass Admin Support Team by emailing admin@getbenepass.com.