If you have questions about the status of your transaction, need to upload a receipt, or want to want to look at your purchase history, you can check out the 'Home' page in the mobile app or website for more information.
To view your transactions:
Log in to your account from our website or mobile app.
Click on the 'Home' page.

This page shows your recent transactions

Scroll down to view your recent transactions and click "See transactions" on the app or click "View all" on our website on the right side of the page. 

Once there, you'll see a history of all of the transactions you've made with Benepass, as well as any expenses you've submitted to your Benepass account.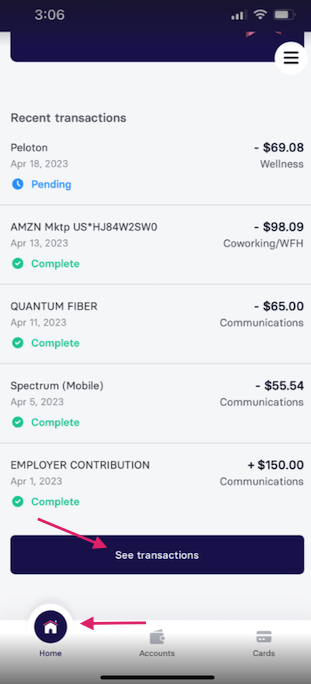 Some helpful things to know while navigating your transactions:
To filter transactions on our website, click on the filter icon. Then select your desired filters, such as Benefit, Status, or Type. On the app, you can filter by selecting your desired filters from the filter menu at the top of the Transactions screen. 
To see more information about your transaction or expense, simply click it, and more detailed information will populate. 
The status of your transaction or expense will be reflected by what section you find it in, e.g. Needs Information, Pending, or Complete.
Questions? We are happy to help! Please reach out to Benepass Support for any assistance.