What is Self-service data upload?
Self-service data upload is a feature available in the Admin Dashboard to clients who require uploading specific payroll data files manually, such as roster, election, and/or deduction files in only a few steps. Once the files are uploaded, Benepass will apply any changes necessary (add or remove accounts, provide contributions, enroll or disenroll from benefits, and more).
Your step-by-step guide can be found below. 
Before you get started
Make sure the file you will import includes the following data:
First Name
Last Name
Primary Email
Payroll ID
Employee Type
Employment Status
Hire Date
Home Address Country
Office Address Country
Pay Frequency (for pre-tax benefits only)
Step-by-Step File Upload Process
1. Log in to your Admin Dashboard and go to the tab "Integrations".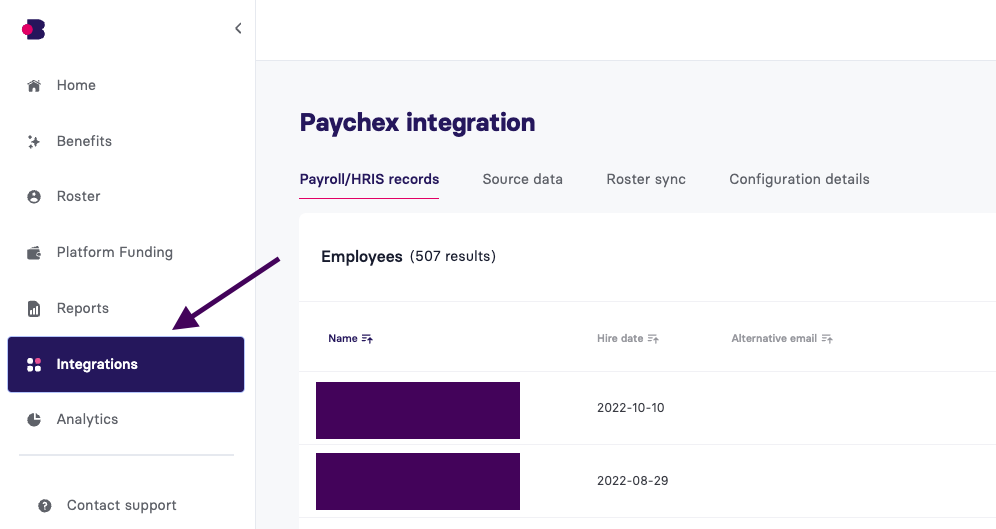 2. Click on the tab "Source data" and then on Upload file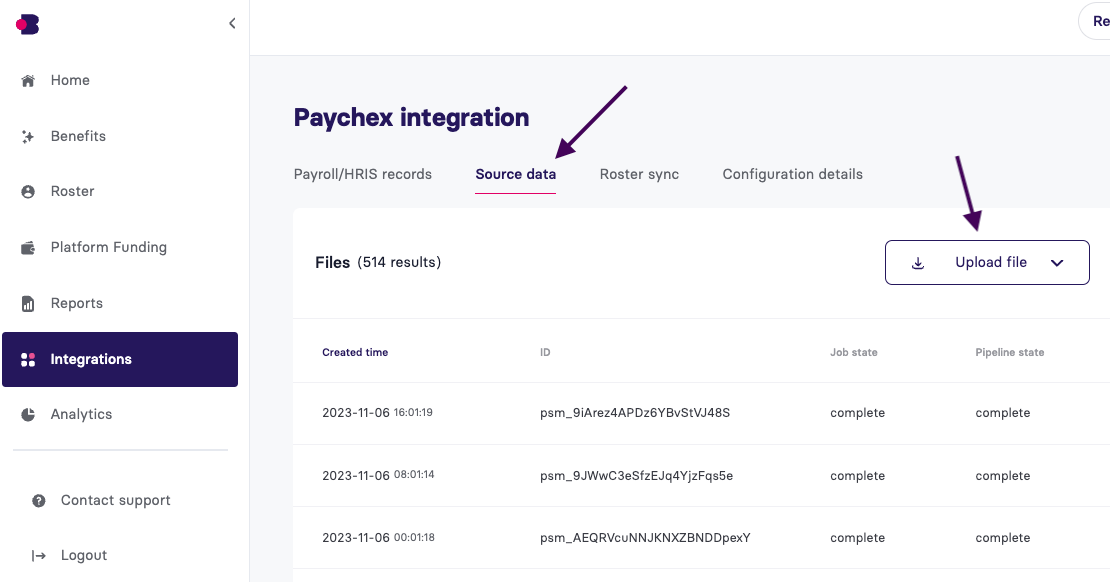 3. Upload a CSV or Excel file to begin the import process and make sure your file includes the data from the required columns noted on the left-hand side: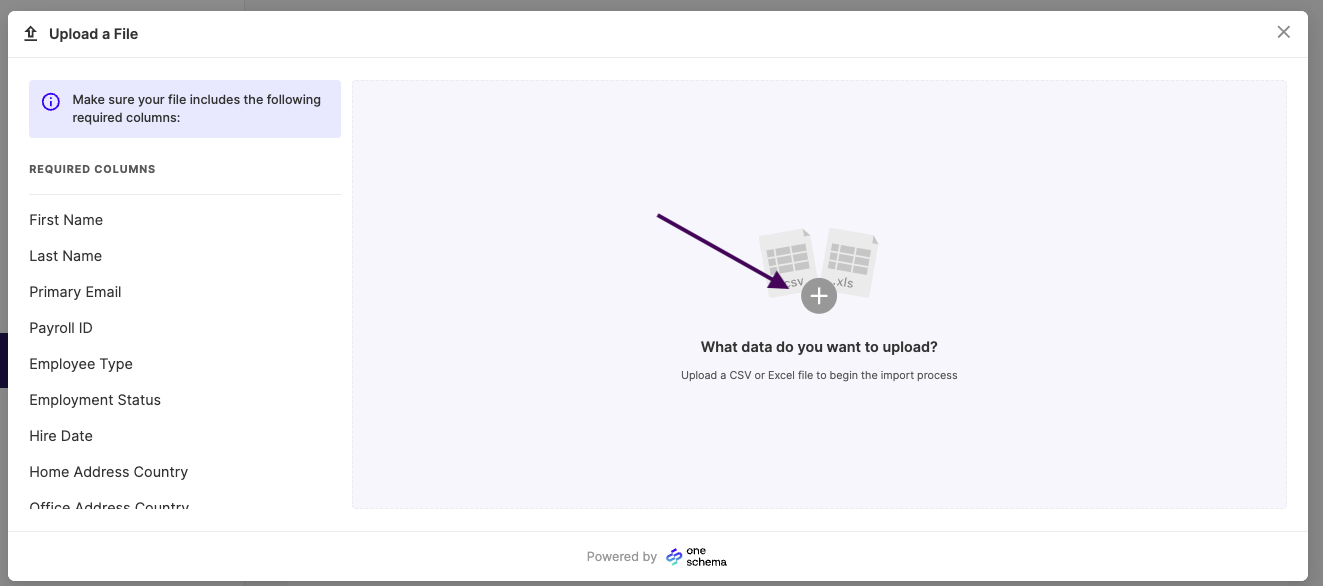 Once uploaded, it will preview the data from the file. You can click on "next". 


4. Map your columns: If a column in your file is named exactly as the mapping field from our required fields list, the system will auto-populate it. If it's not the same, you will need to choose it from the dropdown:



Note that the fields with a red asterisk from the Template Columns dropdown must be mapped to the columns in your file. 
If a field has multiple values, you may need to map each of them to a value by clicking on "Edit [X field] values"

You can picklist values under "Template Values" from here as needed. Each template value displays a list of possible values to choose from. 



Once you are ready, you can click "Done" to go back to the main import page, and then click on Next.


4. Review and Finalize: Our system requires some data to be in a specific format, such as dates or amounts. If that format wasn't the one you used within the uploaded file, our system can fix it using the "Fix formatting errors" button: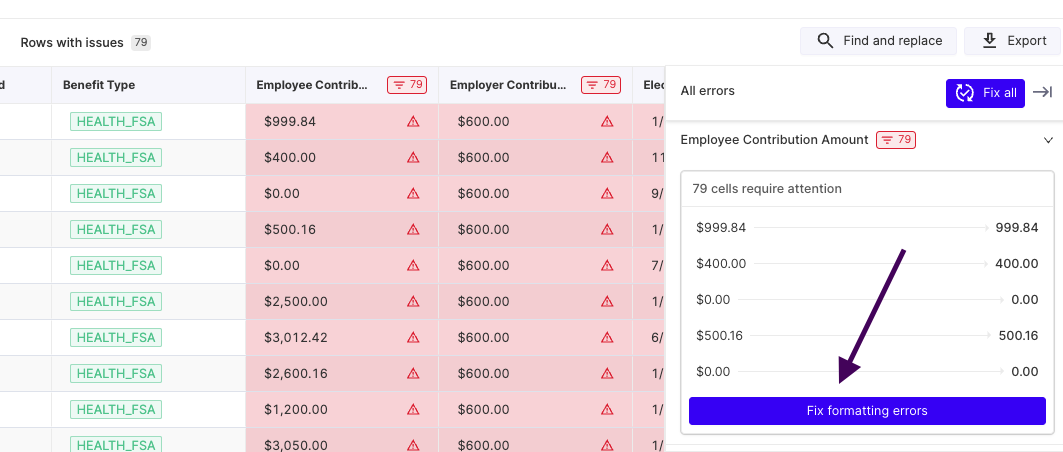 Once all formatting is done, you are ready to import!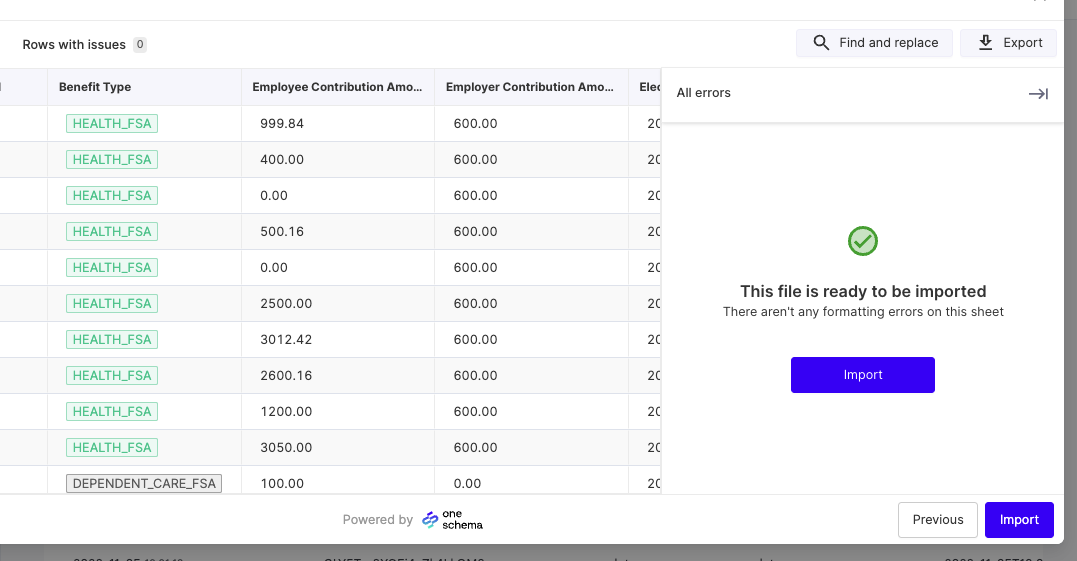 Tips and Notes:
Clean data means easy upload. Ensure the data is already as clean as possible within the file you will upload to make it a seamless process.
Each cell should have a job: nothing should be empty. If a cell is empty, the system will flag it as an error. If that data is irrelevant, you can delete it from the upload itself, but please note the system will flag this every time. To avoid taking the extra steps, a clean file is best. 
Double check the file was uploaded: go back to the Source Data tab from the admin dashboard and refresh the website. Once uploaded, you should see the Job State is under Pending. This means the files were uploaded and they are in line to be processed by our system during the next sync:


Pre-tax file — uploading a file with a pay date in the past: if for any reason you could not upload a file before the pay date, we can still make sure those contributions go through. However, please make sure the pay date is under 1 week past due, otherwise, give the Admin Support team a heads-up!In addition, when you are about to import the file, the system will throw a warning in yellow as shown in the screenshot below. This warning occurs because of the past date. However, this won't prevent you from continuing to import: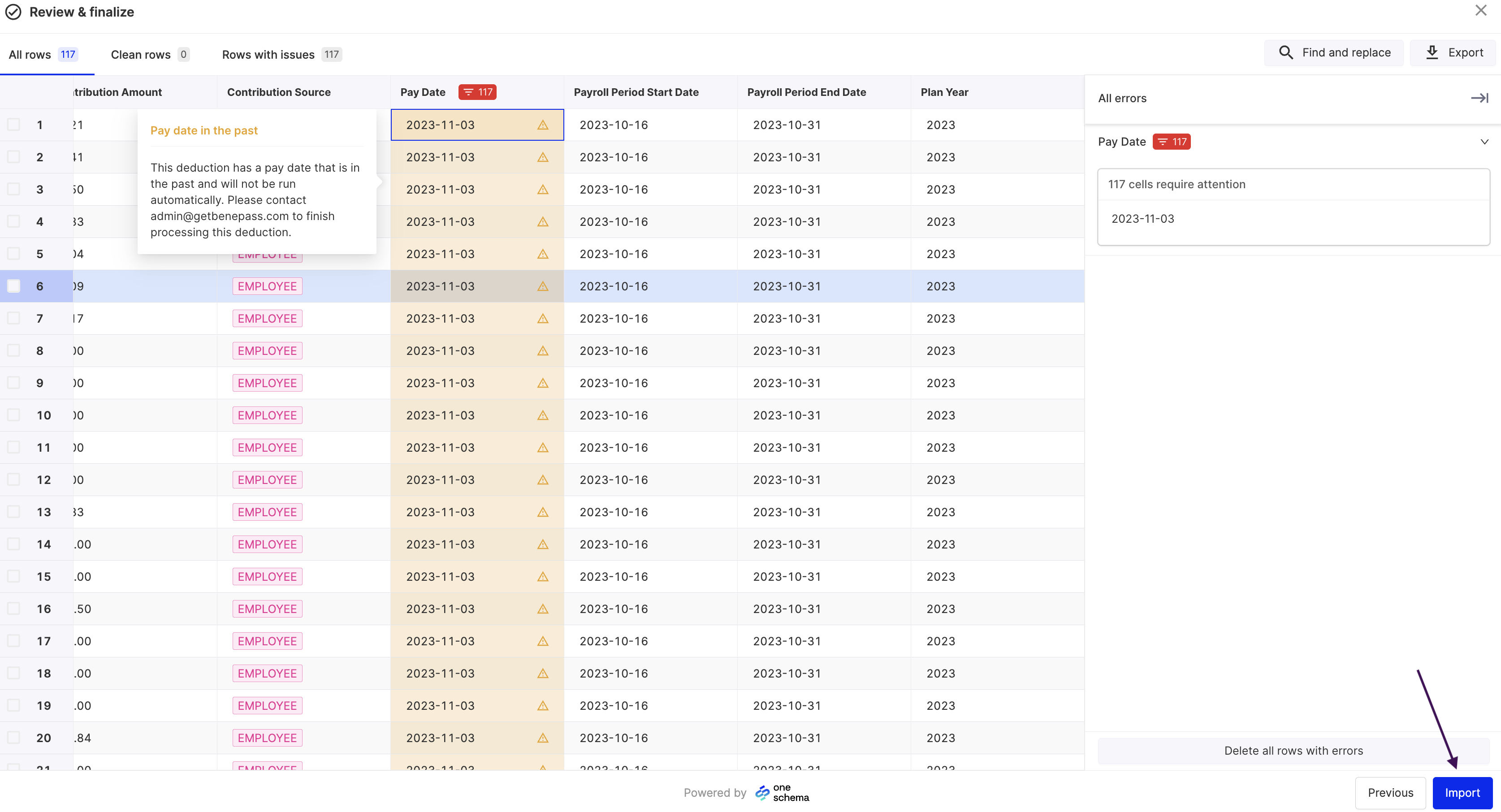 If you run into any issues, please make sure you contact the Admin Support team!
Questions? We are happy to help! Please reach out to the Benepass Admin Support Team by emailing admin@getbenepass.com.